Prioritize, Delegate, & Delete
Welcome to Day 11 of TLC for your gut and the how to delegate for your gut health! Sign up for the email if you want to receive a happy-gut tip every day for the next three weeks. Immediately improve your gut health, and make it easy to love your belly, so that your belly loves you!
---
How to Delegate with Lists
I recently spoke about the importance of list making and referred to some guides in It Takes Guts to Be Happy! The previous two lists—grocery and lifeline list—are sacred, however, other to-do lists can be simply torturous. Did you notice that the longer the lists, the less you accomplish, and the worse you feel? This is a negative juju for both the stomach and for states of mind!
Remember, I am not talking about the sensible timelines for mapping big projects. I am referring to the pipe dream lists we make while on hold with the phone company, listing everything from "clean the basement" to "paint the bathroom" to "get a PhD."
Confession—I am a list maker. Nevertheless, I learned a secret about using lists to my advantage. After I make the list, I stand back and look at it to determine what is really needed. The things that need immediate attention move to the top. With less high priority tasks the list is easier to follow through.
Delegate Your Success
Now, I take stock of what I can delegate. We do not all have personal assistants to go to the UPS store for us, for example. Although, the truth is, we have more help around us than we realize. We have kids, partners, friends, and parents who are always asking, "Can I help? You're so busy! What can I do?" You know this to be true, right?
For years, my fiancée let me know that he was available to pick up my daughter from school when I was working, but I had difficulty letting him help. I felt that I should be able to do everything myself. Wrong! I was basically telling to him and everyone close to me: "I'm not available to be spoiled, cared for, supported, or loved!" Yet, at the same time, I was angry, resentful, exhausted, and depleted. Yes, that is crazy.
This is what I know: People who love and care about us feel good when they help. They feel trusted and important. When helping, their lives gain purpose and meaning—things money cannot buy. We all need each other, and we need to let each other know that.
---
Gold Star Happy-Gut Reminder: Ask for help, delegate, and learn to receive it gracefully. I am still learning.
---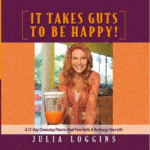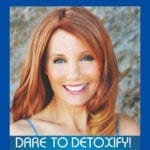 The 21-Day Cleanse in Julia's books is a road map for healing digestion, stopping gas & bloat, maximizing energy, and learning new tools to sustain your health and vitality. Julia's books are available in both audible and printed versions! 
---