Essential Oils to the Rescue
Welcome to Day 6 of TLC for your gut and learning how to heal your insides with essential oils! Sign up for the email if you want to receive a happy-gut tip every day for the next three weeks. While you learn, you may also immediately improve your gut health, and make it easy to love your belly, so that your belly loves you!
---
Essential Oils 101
Gut health is affected by both internal and external sources. Naturally, the food you ingest largely defines digestive well-being. However, external sources such as eating disorders, anxiety, and stress greatly influence your gut. Therefore, my go-to for dealing with stress-induced digestive problems are essential oils.
Essential oils and aromatherapy began centuries ago. Today, our three main intakes of essential oils include inhalation, ingestion, as well as topical application. Inhalation, for example, is the oldest form of essential oil treatment and likely the safest. Simply inhale the oil directly from the bottle, dab on a cloth, or add to a diffuser. On the other hand, ingesting essential oils is less common, but no less safe. Experiment with essential oil intake wisely, some people are sensitive. Diluting the oil in certain drinks might help. Finally, rubbing essential oils on certain parts of your body work wonders for mental clarity.
Rescue Remedy: Essential Oils Made Easy
Deciding exactly which essential oils to use might seem daunting with the many options available. Thankfully, Rescue Remedy makes using essential oils easy. Rescue Remedy is a blend of flower essences created by Dr. Edward Bach over 70 years ago. The solution is one of the world's best known natural stress relief remedies. Rescue Remedy is effective for stress and anxiety. When stressed, our gut and our digestion stop working. Rescue Remedy immediately helps restore a sense of calm. Furthermore, the product is gentle and safe for the whole family.
How to Use Essential Oils
To use, spray the solution under your tongue. Dab it on wrists or behind the neck. Next, you will notice the shift in a matter of minutes. Consequently, I have used this remedy for forty years. From the time my kids were babies, it has soothed them as well. Indeed, I always keep one in my bag.
Rescue Remedy contains a blend of five of the 38 Bach Original Flower Remedies, as developed by Dr. Edward Bach. Therefore, these may help with various emotional aspects of stressful situations:
Rock Rose, for terror and panic
Impatiens, for irritation and impatience
Clematis, for inattentiveness and lack of interest
Star of Bethlehem, for shock or trauma
Cherry Plum, for lack of self-control
Add Rescue Remedy to your journey towards digestive health. Notably, this treatment is an ideal counterpart to the Happy Gut Makeover as well.
---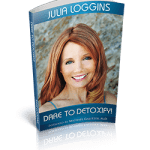 Happy-Gut Reminder: When you feel stress, why not change the emotional channel? Thankfully, you may de-escalate with flower power. In addition, if you are ready learn more about building a healthy gut, read one or both of Julia's books below. Having a step-by-step program to inspire transformation makes the difference!
The 21-Day Cleanse in Julia's books is a road map for healing digestion, stopping gas & bloat, maximizing energy, and learning new tools to sustain your health and vitality. Julia's books are available in both audible and printed versions!
---