Why Use a Lifeline List?
Welcome to Day 10 of TLC for your gut and an introduction to lifeline lists! If you want to receive a happy-gut tip daily for the next three weeks; sign up for the email. Immediately improve your gut health, and make it easy to love your belly, so that your belly loves you!
---
In It Takes Guts to Be Happy!, I refer to a list I made when I was really sick. Therefore, this list was to remind me of simple things to do daily to feel better. At the time, I was in such a fog, I could not remember these any other way.
Today, I was working with a client who understandably panicked at the onset of yet another migraine which landed her in the ER. She said she completely forgot that coffee enemas have shifted her migraines in only 30 minutes. She said, "Oh, I was so scared, I just kind of left my body and went on automatic–to the ER!" Exactly. Indeed, that is what we often do when we are in fight-or-flight mode; or are over fatigued. Obviously, these are the moments for which lifeline lists are made.,
Therefore, I have included my lifeline list from a time when I was challenged. I had developed a bad case of parasites, gut pain, brain fog, depression, and fatigue. Of course, I did not have kids then. Because of that, this list would have been interrupted by the other ninety things that parents do. So, if you do have children, ask them to help you work on this list with you.
Julia's Lifeline List
1. After you wake up, say, Hooray, you made it. Thank you, God!
2. First, start you diet with drinking water with lemon.
3. Next, take steps to avoid talking to anyone until you have done everything on this list.
4. Then, go for a walk. Force yourself. Twenty minutes.
5. After your walk, make and drink a smoothie.
6. In addition, take grapefruit seed extract. 70 drops.
7. Then, do a coffee enema. Remember your electrolytes.
8. Next, eat you food. Chew. Slowly.
9. Then, Write ten things for which you are grateful.
10. Lastly, now you can talk to people.
Finally, you might also add these things to your lifeline list:
• First, reach out to friends who remind you that you are loved.
• When you connect with professionals—counselors, doctors, healers—they will keep you on your path.
• Once you perform some creative activities that lift you up—play piano, swimming, hug your dog, read to your child, attend a support group, make soup, or, knead clay, you will feel better emotionally. Afterwards, your endorphins will start to flow.
• While practicing your form of prayer, you set the tone for healing. Be kind, especially to yourself. Remind yourself, this too shall pass.
---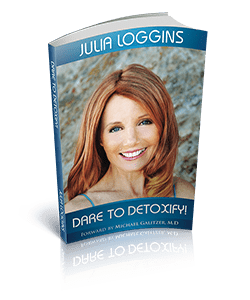 If you are ready to learn more about how to build a healthy gut, try one of more of Julia's books. The 21-Day Cleanse in Julia's books is a road map for healing digestion, stopping gas & bloat, maximizing energy, and learning new tools to sustain your health and vitality. Julia's books are available in both audible and printed versions!