Beautiful from the Inside Out
What makes someone beauti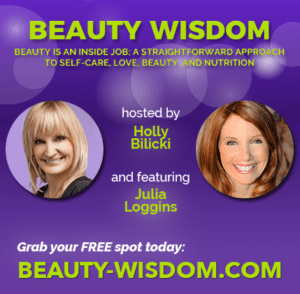 ful?
Great question! I thought deeply about the question while preparing for the Beauty Wisdom Webinar, hosted by Holly Bilicki, launching live (and free!) on April 3.
To me, being beautiful includes an enthusiasm for life and a glow which is hard to miss. Beauty equals that sparkle in the eyes, the warmth of a genuine laugh. Remember that high school cheerleader whom we all thought was the most beautiful girl in the world? She expressed boundless energy with clear, shiny skin. The truth is, we are hard-wired to be attracted to healthy, happy people.
What makes you feel beautiful?
I feel beautiful when I feel good! My dermatologist, Dr. Julia T. Hunter, says that skin care products or procedures cannot create real beauty when people are in pain, struggling with fatigue or a bloated belly. Do you remember the last time you felt sexy? I will bet it wasn't when your stomach was killing you or you were nursing a migraine. No matter what Victoria's Secret wants us to believe, beauty is an inside job.
---

---
The Skin that We're In
The skin is the largest organ of the body. Therefore, if digestion is weak and the colon clogged, the body has to choose a different dumping ground for toxins–the skin. Consequently, Dr. Hunter advises colon therapy for clients of all ages who want beautiful skin. Botox was not around when Mae West made her seductive chant, "Come see me sometime," famous. She credits coffee colonics for her wrinkle-free skin and youthful glow.
Join me on April 3 for the Beauty Wisdom webinar, and here more tips for feeling and looking beautiful! It's free, and here is the link to my interview with Holly:
If you want to fall in love with the skin you're in, join us in April for the Happy Gut Makeover!! And, not only will you cleanse and detoxify your skin, but you will lose that muffin top. In summary, I invite you to feel and look your best for this summer's activities!
---
Books Available in Audio
I am super excited that BOTH my books are available in audio form. Find them on my website for download, and or ITunes and Amazon Audible. After a successful run of the audio version of Dare to Detoxify! my clients convinced me to record my new book, It Takes Guts To Be Happy! They love listening as well as reading. I hope you do, too!