All I Want For Christmas Is to Feel Good–No More Holiday Food Hangovers
The holidays are upon us, and they often bring unwelcome food hangovers! Who can resist the temptation of gingerbread cookies from the bake sale, or fresh donuts at the office Christmas party, or an extra glass of wine when out with friends?
And then, how do we handle the emotional challenges due to the holidays? Personally, at times, I struggle with balancing my expectations, hopes, and dreams of memorable movie moments with loved ones; versus the reality of how bumpy the season can be–last-minute schedules changes, a child (or two!) with the flu–and add in a perfect present that seems to falls  flat. In addition, I am aware that many suffer while my family is warm and cozy. All combined, this is a lot to hold.
However, what helps me (and my sensitive tummy) through these temptations are a few practical tips and tools. I share them with you along with the intention that come January First we will all feel lighter, clearer, and stronger than we had expected!
---

---
ENZYME ENERGY Digestive Enzymes–A Gift to the Stomach
Never leave home without them–that's my motto. Enzyme supplements are simply the magic bullet for digesting proteins. The HCL in my Enzyme Energy supplements will help food absorb, as well as be easily eliminated. These little jewels offer the best way to avoid gas, bloat, and acid reflux. And, when you factor in that so many holiday meals are classic combos of proteins and carbs–which do not digest well together–taking enzymes becomes critical. They keep metabolism speeding along, and help prevent food hangovers from turning to cellulite and muffin tops! Perfect timing too–just when you want to look fabulous for the New Year's Eve festivities.
One Happy Gut Cleanse Coming Up–the Best Gift Ever!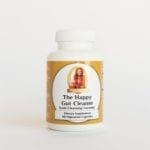 Do you find it stressful to eat hot rolls and butter at dinner with the in-laws? Or, how about feeling obligated to sample your daughter's irresistible shortbread cookies? Hurt your tummy, or hurt her feelings? Nothing says "Wheat, Dairy & Sugar" like the holidays! These foods turn immediately to glue in our gut, which means we can be prone to constipation and sluggish bowels. The HAPPY GUT CLEANSE is not a laxative, but a blend of herbs and antioxidants that effectively create regularity, while detoxifying the liver. It is so gentle that anyone over 12 can take it, including grandma!
The Power of Protein–Pass the Protein Power Please!
I  am not sure what I would do without protein shakes during the holidays. A healthy protein drink satisfies me so much that I can avoid craving and caving into sweets. Plus I enjoy steady, strong energy to fuel these long, crazy days. I carry shaker bottles in the car with extra powder so that I can always can tap into nutritional energy. And, if there is a disaster, you surely will want to be in my lifeboat!
We all have our favorite. My daughter loves Vanilla ALL DAY ENERGY; my husband is addicted to chocolate ALL DAY ENERGY–and my son and I go for PROTEIN POWER, plain with water. KPFK personality and friend, Christine Blosdale, says her secret is blending it with cold macadamia nut milk. Yum!
---

---
Bake, Serve, and Give!
Nothing beats the good feelings I enjoyed last year when I handed a dozen (sugar-and gluten-free) pumpkin pies over to the Organic Soup Kitchen for their Christmas dinner. I certainly did not need to eat them; I just needed to fill my kitchen with the warm and loving aromas of cinnamon, nutmeg, and cloves. Baking for others in need is just one way to truly enjoy the holidays without filling our stomachs with unnecessary sugar, and wheat, and dairy. Let's keep the food hangovers away and those carbohydrates moving along–right out of the body and the house!
For every purchase over $100, I'm giving away a free audible version of my book, It Takes Guts To Be Happy! A 21-Day Plan to Heal Your Belly & ReCharge Your Life. It is my greatest joy to pass on everything I have learned about holiday food hangovers, so we can enjoy the healthiest, most abundant and joyful 2019 possible. My love to you all!
---
Mastering Menopause Makeover
At 49, I was depressed, bloated, and frustrated beyond belief. I was beginning to think the best of my life was over. I woke up daily trying to muster the energy to go to work and take care of my kids without flipping out. If this sounds familiar, I want you to know, I've been there, too!
After studying with world-famous anti-aging experts, I experimented and made some mistakes. However, I discovered keys to turn menopause into the best second chapter of my life. I rediscovered my sparkle and so can you!
My Mastering Menopause Makeover includes 29 course modules, a collection of my best Happy Gut Makeover supplements, and weekly coaching calls. Enjoy support, information, camaraderie, and community as you flatten your tummy, boost metabolism, and dump extra pounds. Find your zeal for life once again with my Mastering Menopause Makeover!
---
I am super-excited that both of my books are available to you in audio form. Find them on my website for download, or ITunes, and Amazon Audible. Therefore, after a successful run of the audio version of Dare to Detoxify! my clients convinced me to record my new book, It Takes Guts To Be Happy! They love listening as well as reading. And, I hope you do, too! Finally, check for all my new products in my new shop called Cleansing for Energy!