Join a Group Cleanse to Makeover a Blue Mind & Bloated Body in Six Weeks
Are you struggling with feeling blue and bloated? Do you feel bloated, gassey, and frustrated?
Are those inches around your middle driving you crazy?
Well, we have a real solution! Back by popular demand, the Happy Gut Makeover will help you slim your waistline and boost your body energy. First, we start with the nutritious protein/vegetable-based diet I share in my book, "It Takes Guts To Be Happy! A 21-Day Plan To Heal Your Belly & Re-Charge Your Life!" Then, together, we kiss good-bye to processed foods, sugar, wheat and dairy, which opens the door to energy, clarity and peace of mind. As a result, of toxin release, metabolism speeds up. Those inches you thought  were stuck to you like cement, finally melt away.
---

---
 Drain the Sludge and Let Go of the Bloated Feeling
Obviously, learning the details of lymphatic health and colon cleansing is the key to rebooting your youthful vibrancy. Incredibly, did you know that the colon can store 5-20 pounds of waste? Therefore, not only does this waste add to the muffin top–but it affects us mentally, too. However, The Happy Gut Makeover Cleanse teaches easy ways to dump the sludge and decongest the lymph. Oh, and by the way, we also focus on ridding that stubborn cellulite as well. Imagine actually looking forward to bathing suit shopping!
Laughter Really Is The Best Medicine
We each need real support to make real changes, if we are expecting the kind that transform our lives and health routines for good. And clearly, it is necessary to ignore that critical inner voice trying to convince you to give up re-claiming your strength and beauty. You can do this. Meeting as a group in six weekly teleconference sessions, we talk about everything from what to eat for breakfast to how eat healthy at a dinner party. If you have a mate who is hooked on pizza and beer, or a child who won't eat her salad, this is the place to ask questions and to find real solutions.
Crackers are Crack in a Box!
Christine Blosdale, radio show host of, "Out Of The Box," joked during my recent interview with her that crackers are crack! What she meant is, if you struggle with addiction to sugar and carbs, crackers–especially those made with wheat that you can't stop eating once you open the box. What to do instead? Pound the protein, the antidote for sugar and carb cravings. And discover the lightness of protein smoothies. We will share oodles of recipes. You may find yourself hooked–but in the best way! Enjoy my lively conversation with Christine about how I survived to become the Queen of Detox–and why it really does take guts to be happy.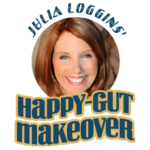 Join us for the Early Spring Happy Gut Makeover, beginning on March 25, 2018. Also, I am so excited to be integrating Sun Potion's adaptogenic herbs into this Cleanse. Plus, these transformational foods are mild-tasting, digestible and portable. Also, no refrigeration is necessary…perfect for travel. And, you can buy Sun Potion products right here!
Spring into summer looking and feeling exactly the way you've dreamed about.
---
 Books Available in Audio
I am super excited that BOTH my books are available in audio form. Find them on my website for download, and or ITunes and Amazon Audible. However, after a successful run of the audio version of Dare to Detoxify! my clients convinced me to record my new book, It Takes Guts To Be Happy! They love listening as well as reading. And, I hope you do, too!