Healthy Treats that Satisfy
It is winter. We are all bundled up in sweaters, downing cups of tea. And, we Santa Barbarans are holding an immense amount of stress due to two recent disasters–fires and floods. Comfort foods, anyone?!
What is your favorite comfort food from childhood? My grandma used to whip up a mouth-watering apple pie, with just the right amount of tart sweetness. It took a few tries to duplicate hers pies without the toxic four–wheat, sugar, fake fat and dairy. If you have been successful reinventing your favorite comfort food, send it to me. I'll feature it on a future blog, and reinvent it here.
---

---
Protein, The Antidote for Cravings
The recipes below will soothe your tummy, rather than inflating it. Nurturing our nervous system and nourishing our soul meet at the crossroads of real nutrition. It us not sugar that satisfies our cravings–it is protein. However, when comfort foods are packed with easily digestible protein, both our brains and bellies are satisfied. Consequently, we think more clearly, and we regain our ability to see the big picture.
Here is a quick tip: If you're stressed, you can't digest. Therefore, instead of skipping meals, blend up a protein shake and stay hydrated with plenty of electrolytes. Thankfully, digestive enzymes with meals will help break down your food and reduce gas and bloating. Obviously, I never leave home without them!
Quick & Easy Quiche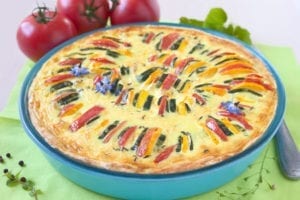 The first recipe is my daughter's new breakfast of champions. It takes less than 10 minutes to prepare.
gluten-free frozen pie crust,
5 eggs,
One bunch of spinach, washed and chopped,
3 tbs. gluten-free flour,
1/2 tsp. salt, 1 pinch black pepper.
First, heat oven to 350 degrees. Then, defrost pie crust in oven for 10 minutes while preparing filling. Also, for the filling–beat eggs till frothy and add the gluten-free flour and seasonings.
Next, sprinkle chopped spinach onto the bottom of the pie crust. Then, add other ingredients–leftover turkey sausage, thin-sliced organic ham or chunks of chicken, chopped zuchini, broccoli–any favorite veggie. Lastly, pour egg mixture slowly into the pie crust.
Finally, bake for 25-30 minutes. Serve with hot, frothy Caramel Nut Teccino with whipped coconut, soy, or almond milk and a touch of stevia or monk fruit.
Grandma's Apple Pie 2.0
2 Gluten free frozen pie crusts
8 organic apples–peeled and sliced thinly,
4 tbs. gluten free flour,
1/3 cup Lakanto (monk fruit sweetener),
2 tsp coconut oil,
1 tsp cinnamon,
1/2 tsp. nutmeg,
1 tsp. lemon juice
First, defrost pie crusts by baking at 350 degrees for 10 minutes.
Next, toss the peeled and sliced apples with flour, sweetener, oil, lemon juice and spices. Then, pour mixture into pie crust and cover with second, defrosted pie crust.
Lastly, poke holes all over crust and bake at 400 degrees for 45 minutes. Yum!
Happy Gut Makeover–We Cleanse, We Rise!
I want to applaud all the participants of the Happy Gut Makeover for bravely forging ahead during this time of transition in our beautiful town. Thank you for sharing stories of how eating clean has elevated your spirit and boosted your energy when you needed it most. Remember, we are all in this together. And, we shall rise.
---
Books Available in Audio
I am super excited that BOTH my books are available in audio form. Find them on my website for download, and or ITunes and Amazon Audible. However, after a successful run of the audio version of Dare to Detoxify! my clients convinced me to record my new book, It Takes Guts To Be Happy! They love listening as well as reading. And, I hope you do, too!