Try Julia's Cleansing for Energy Systems to Alleviate Digestive Distress
"What will heal my chronic constipation and not give me diarrhea and cramps?"
"I fall asleep after I eat. Help!" "How do I get enough protein during the day?"
These are questions I hear from clients constantly. My answer is: the Cleansing for Energy Trifecta. If I were stranded on a dessert island with these three products, a fishing rod and a bikini, I would be just fine! The Trifecta–Happy Gut Cleanse, Enzyme Energy and Protein Power will cleanse, energize and nourish your body. I have put them with only vegetable juice for a week and felt amazing–even while working! They work synergistic-ally with other products in the Cleansing for Energy line, but each stands alone in effectiveness.
---

---
Cleansing for Energy Happy Gut Cleanse
The Happy Gut Cleanse is not a laxative! This gentle formula of detoxifying herbs naturally encourages colon mobility while cleansing the liver. Happy Gut Cleanse contains no cascara sagrada or senna, which causes diarrhea, gas and bloating, and worst of all, inflammation. Our motto is, everything we put into our bodies must be non-irritating and anti-inflammatory. I am happy to offer a safe and effective solution that gives great results while creating long-term healing. That's our goal.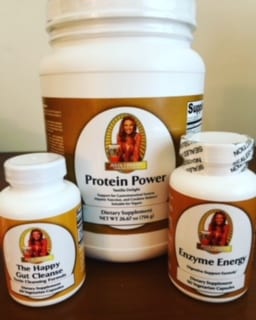 Enzyme Energy is an enzyme with hydrochloric acid, which is just HCL–key for digestion of protein and complex carbohydrates. Sensitive people do best with simple and uncomplicated formulas, which is why I created Enzyme Energy–gentle even for those with sensitive stomachs. Stress dilutes and, at times, completely blocks the body's ability to make HCL. This leads to food putrefying in o stomach, causing acid reflux, and rotting in out gut, which causes gas, bloating, constipation, weight gain, headache and allergies. The reason people feel sleepy or foggy-headed after a meal is lack of food enzymes, especially HCL. You won't believe how different you'll feel when you add this to your daily routine. I never leave home without Enzyme Energy!
Cleansing for Energy Protein Power
Protein Power is a creamy, delicious sugar & stevia-free protein powder that is about to become your healthy obsession. Its 26 grams of digestible protein carry will carry you through the day like clean rocket fuel. Protein is the antidote for sugar & carb cravings, so no more reaching for chips & cookies, out of the need for a pick=me-up! And, no more afternoon blood sugar crashes.
Monk-fruit sweetened Protein Power has a zero glycemic index — no sugar — and no after-taste. It's delicious with water, or water and ice. Add frozen berries if you like, but there's no need to doctor the taste of this scrumptious treat. I can't believe something so yummy is this good for us. It's color is from the generous amount of turmeric, that super anti-inflammatory herb, and it also has vitamins, minerals, enzymes and fiber. Protein Power is my go-to, all-day fix at the office, and my late-night snack when I work late.
There you have it–the Cleansing For Energy Trifecta. Write to me at julialoggins@gmail.com and tell me about your experience with these amazing products. I'm all ears!
---

---
Mastering Menopause Makeover
At 49, I was depressed, bloated, and frustrated beyond belief. I was beginning to think the best of my life was over. I woke up daily trying to muster the energy to go to work and take care of my kids without flipping out. If this sounds familiar, I want you to know, I've been there, too!
After studying with world-famous anti-aging experts, I experimented and made some mistakes. However, I discovered keys to turn menopause into the best second chapter of my life. I rediscovered my sparkle and so can you!
My Mastering Menopause Makeover includes 29 course modules, a collection of my best Happy Gut Makeover supplements, and weekly coaching calls. Enjoy support, information, camaraderie, and community as you flatten your tummy, boost metabolism, and dump extra pounds. Find your zeal for life once again with my Mastering Menopause Makeover!
---
I am super excited that both of my books are available in audio form. Find them on my website for download, or ITunes, and Amazon Audible. After a successful run of the audio version of Dare to Detoxify! my clients convinced me to record my new book, It Takes Guts To Be Happy! They love listening as well as reading. And, I hope you do, too! Check for all my new products in my new shop called Cleansing for Energy!